The Hampton Roads Soccer Council
is a 501(c)3 non-profit organization dedicated to providing a facility and hosting events that are safe, friendly and first class while serving as the platform for athletes to learn sportsmanship, improve physical fitness and exemplify teamwork.
March
1992
Incorporation as Virginia Beach Soccer Joint Task Force ( founding members comprised of Beach FC, Atlantic and Virginia Beach Soccer Club)
December
1993
Southeastern Virginia Women's Soccer Association (SEVWSA) became affiliate member of HRSC
May
1994
Land Lease approved by City of Virginia Beach City Council
May
1994
First Sand Soccer Tournament. Originally called the "BEACH KICK-OUT". Changed to NASSC 3 years later
December
1995
Official name changed to Hampton Roads Soccer Council
August
1997
Inaugural game played at HRSC
March
2003
Addition of Headquarter Building
September
2003
Virginia Rush became affiliate member of HRSC (merger of Virginia Beach Soccer Club, Atlantic Soccer Club and Lafayette Soccer Club)
August
2004
Addition of Maintenance Shop
July
2010
Addition of Turf Fields
April
2014
Over Thirty Soccer League (OTSL) became affiliate member of HRSC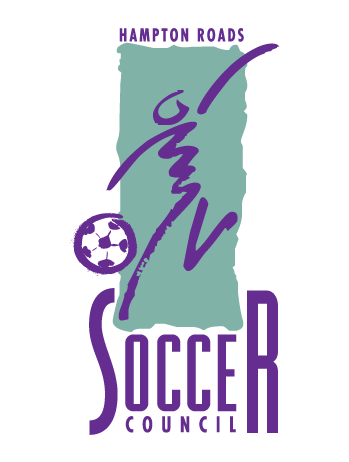 Hampton Roads Soccer Council Wall of Champions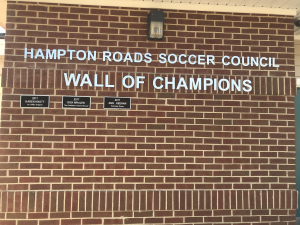 Congratulations to the first class of the Hampton Roads Soccer Council Wall of Champions. The Wall of Champions recognizes individuals who have gone above and beyond for the soccer council over the years. Thank you for all of your unwavering support of the Hampton Roads Soccer Complex and North American Sand Soccer Championships!
Class of 2017:
Ann Keenan
Karen Knott
Dick Whalen
Job Announcement: Part-Time Grounds Crew Member
The Hampton Roads Soccer Complex, located in Virginia Beach is looking for a part-time grounds crew team member. We are in need of a motivated individual to work tournaments, team training, and general league play at the complex. The selected individual will earn between $10 – $12/hour. Average schedule of 7am-7pm (one or two weekend days per week) and 4pm-10pm during the week.
Duties:
Trash collection and disposal in proper containers
Clean and maintain bathrooms before, during, and after activities
Set-up field equipment such as corner flags, goals, etc.
Direct patrons where to park
Open up and/or close facility
Assist tournament directors/event staff as needed
Perform any other tasks needed to help facilitate activities at the complex
Qualifications and skills required
Ability to work alone safely
Experience working at a sports facility (preferred)
Must be able to lift 50 lbs
Great attention to detail and self-pride in your work
Ability to effectively communicate with supervisors
Maintain professionalism when dealing with vendors, tournament staff, and patrons
Must be able to work a minimum of 4 weekend days (Saturday or Sunday) a month
Must have a driver's license and reliable transportation
Must be able to pass a background check
Interested candidates, please email your resume to Travis@soccercomplex.org